Die Wahl findet am Donnerstag 12.03.2020 
im Oberangertheater statt.
Einlass nur mit VVK-Ticket (Keine Abendkasse)
Kandidat 1
Benji Waters
Benji, für den 0815 schon immer zu langweilig war, hat schon im zarten Alter von 16 Jahren erste Berührungspunkte mit der Fetischszene. Mit seiner Kandidatur möchte er eine aktivere Rolle in der Community übernehmen und auch das stereotype Bild eines Lederkerls aufweichen. "Ich finde es schön, wenn man auch innerhalb der Community neue Kontakte knüpfen und Brücken schlagen kann." Deshalb ist es nicht verwunderlich, dass er bei CSDs in nah und fern, Easter Berlin, Folsom Europe und dem Fetisch-Pub-Crawl in München und Nürnberg heute schon anzutreffen ist. "Sei du selbst – lebe deinen Fetisch!" – so soll dann auch sein Motto für sein Amtsjahr lauten.
English:
Benji, for whom standard was meant to be too boring, had his first points of contact with the fetish scene at the tender age of 16. With his candidacy, he would like to take a more active role in the community and also soften the stereotypical image of a leather guy. "I think it's nice when you can also make new contacts and build bridges within the community." It is therefore not surprising that he takes part at Pride events in near and far, Easter Berlin, Folsom Europe. He also takes part at the fetish pub crawl in Munich and Nuremberg. "Be yourself – live your fetish!" – that should also be his motto for his year in term.
Video: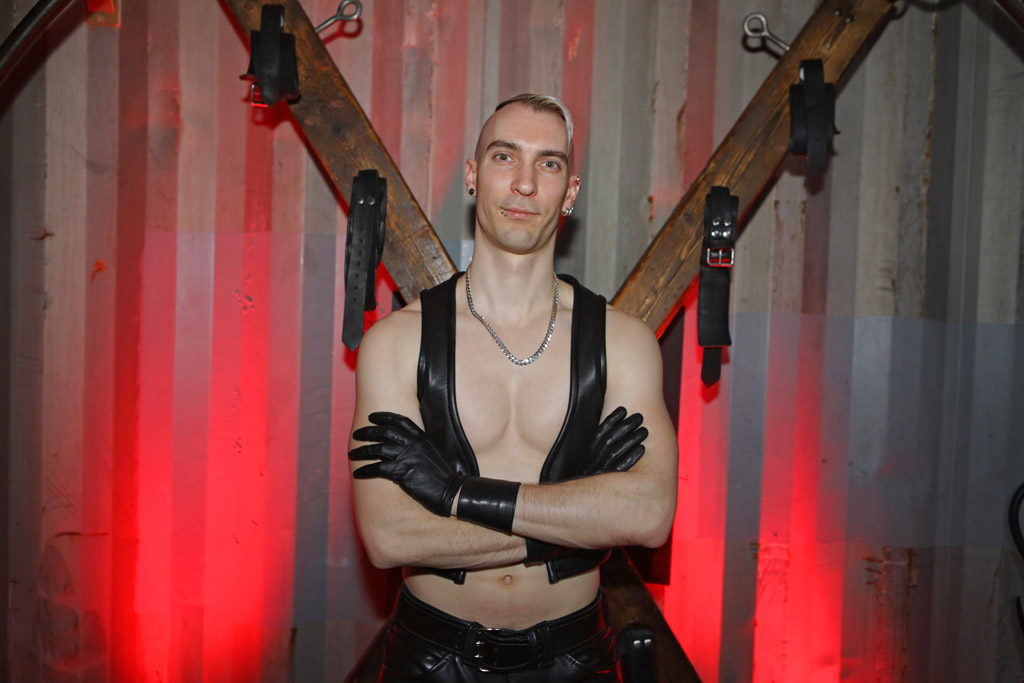 Kandidat 2
Michael Pfeifer
Michael beschreibt sich selbst als offen und selbstbewusst, lernt gerne Leute kennen und ist daher auch gerne in der Fetisch-Szene unterwegs. Beliebte Locations sind das UnderGround, Jenny oder sub und auch bei Events wie CSD oder Folsom Europe ist er gerne dabei. "Sollte ich Bavarian Mister Leather 2020 werden möchte ich zeigen, dass man sich und seinen Fetisch nicht verstecken muss und Fetisch auch mehr jüngeren Schwulen näherbringen. Selbst in der Szene gibt es viele, die Fetisch nicht verstehen oder es sogar lächerlich finden." Toleranz und Anerkennung von Fetisch liegen ihm am Herzen. Lebe deinen Fetisch, so wie er dir gefällt.
English:
Michael describes himself as open and confident, likes to get to know people and therefore likes to be in the fetish scene. Popular locations where you can find him are UnderGround, Jenny or sub and he is also happy to take part at events such as Pride events or Folsom Europe. "Should I win the title Bavarian Mister Leather 2020, I would like to show that you don't have to hide yourself and your fetish. I also want younger gays to get to know fetish better. Even in the gay scene there are many who do not understand fetish or even find it ridiculous". Tolerance and recognition of fetish he cares a lot about. True to the motto: "Live your fetish the way you like it".
Video:
Der Vorstand wünscht allen Kandidaten viel Erfolg bei der Wahl zum Bavarian Mister Leather 2020!
The board of the MLC wishes good luck to all contestants!

Unser Highlight in diesem Jahr
Zu den Pausen wird Vava Vilde performen. Wer Queen of Drags gesehen hat kennt sie –  sie stand im Finale der Show und wurde Dritte.
instagram.com/vavavilde
facebook.com/vavavildeofficial
youtube.com/vavavilde