Quick-Menu
---
Current Info
mostly only in German
open/close
The first Fetish Techno Party at UnderGround with DJ Ben Manson Saturday, 07 December 2019
Pre-sale starts from 25 August 2019.
PLEASE NOTE: For this special party at UnderGround, there is ONLY advance sale of tickets. No tickets at the door.
INFOS & TICKETS
Oktoberfest 2019 - pick up the WIESN-packages @ SpeXter
Hey Guyz – it's time
you can pick up the WIESN-packages!!!!
1. Please bring your passport or personal ID with you
2. Please pick up the personal voucherpackage with the beer and food vouchers @ Spexter-shop in Munich
3. The onlinetickets have to be brougt to the GAYSUNDAY- event ( in printed version or as a pdf-file on your smartphone)
The beer and foodvouchers for the prepaid onlinetickets have to be picked up at the SPEXTER-shop ( Müllerstrasse 54, 80469 München – subwaystation: Sendlinger Tor, U2/3/6) from August 16th, 2019 on. Please bring your onlineticket and a personal ID or Passport, to get it.
Latest day of pick up is Saturday September 21st, 2019 – please check the shophours of Spexter before: www.spexter.com, or phone-# +4989 26024864
If somebody else will pick up the the voucherpackage for you, you need to give this person a written and signed personal authorization and a copy of your personal ID or passport.
Handing out the personal voucherpackage on GaySunday is not possible!
Don't foget that you need the personal onlineticket to get access to the beertent on Sunday
—————————–
Last tickets with full packages can be bought at SPEXTER-shop, Müllerstrasse 54, 80469 Munich, from August 16th, 2019 on – first comes first gets
—————————–
We are all happy to welcome you to the 42nd, MLC-Wiesn 2019 and also a big welcome to our international guests – have a safe journey to Munich.
The MLC-board
Dieter, Raymund, Werner
Cultural program during the MLC Oktoberfest weekend 2019
Dear friends and members of the MLC Munich e.V.,
also this year during the MLC GAY-Octoberfestweekend, we are offering a cultural event. This time we will visit the NS-Documentationcenter in Munich.
MORE INFOS & REGISTRATION
Wahl des MR FETISH GERMANY 2019/2020

Der MLC München e.V. ist diesjähriger Ausrichter der Delegiertenversammlung der LFC sowie der Wahl des "MR FETISH GERMANY 2019/2020". Wir freuen uns darauf, an diesem Wochenende Mitglieder unserer befreundeten Clubs sowie Fetisch-Freunde begrüßen zu dürfen.
INFOS & TICKETS
N O T I F I C A T I O N:
Due to the regulation of the legal authority of the city of Munich, we have to verify the identy of each guest of the UNDERGROUND by a legal document. So no final access without a machine readable document, like a Passport or an identity card issued by the legal authority of the country or the homecity, never the less, MLC membercards are also allowed. All other documents, like for e.g. a drivers license are not allowed.
Sorry for this inconvenience – The Executieve Board of the MLC Munich e.V., Dieter, Raymund, Werner
---
News & Flyer
10% discount on accomodation at Holiday Inn München Süd
10% discount on accomodation at Holiday Inn München Süd
For all members and guests looking for accomodation close to UnderGround we made a price deal with the Holiday Inn München Süd at Kistlerhofstrasse 142 (only 200 meters from UnderGround).
If you book your room using this link you will receive a 10% discount on the lowest Best Flexible Rate (daily rate). During certain times of high-season trade fairs or other big events (unfotunately this also applies to Oktoberfest) this discount won't be applicable. Please make sure to enter our company ID 786798308 on the left hand side and choose the tariff preference "Münchner Löwen Club". Only then you will be eligible for the discount.
The MLC only did the discount negociations. Bookings, payments and all other things are solely to be processed with the hotel directly.
HIV-Test per Post mit S.A.M
Eine Info der Münchner Aids-Hilfe: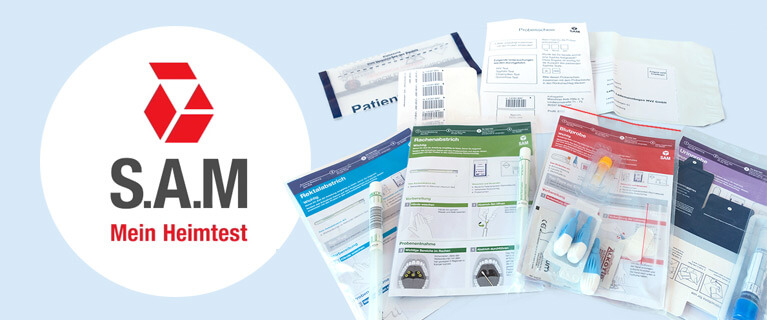 Infektionen früh entdecken und behandeln
Ein kleiner Stich in den Finger zur Blutentnahme, eine Urinprobe, einige Abstriche mit Wattestäbchen, die Proben in einem Plastikbeutel verstauen und in die Post geben: So einfach funktioniert das neue Heimtest-System S.A.M für Checks auf HIV und Geschlechtskrankheiten. Ab sofort wird es in Bayern für ein Jahr erprobt. Entwickelt wurde das innovative Konzept von der Münchner Aids-Hilfe und ihrem Dachverband, der Deutschen AIDS-Hilfe, ViiV Healthcare und dem Labor Lademannbogen in Hamburg. Mehr Infos auf: https://samtest.de und auf der Seite der Münchner Aids-Hilfe!
Current Flyer
Event flyer for Q4/2019 – Q1/2020
Here you can download the event flyer for the quarter 4/2019 and 1/2020

The flyer is in PDF format. To be able to open this file you need "Acrobat Reader" or some other PDF reader software. You can download "Acrobat Reader"
Event flyer for Q2/2019 – Q3/2019
Here you can download the event flyer for the quarter 2/2019 and 3/2019

The flyer is in PDF format. To be able to open this file you need "Acrobat Reader" or some other PDF reader software. You can download "Acrobat Reader"