Quick-Menu
---
Current Info
**Mostly in german
MLC Socialising
Liebe Freunde und Mitglieder des MLC e.V., wir wollen das Vereinsleben wieder stärker in den Mittelpunkt rücken. Unser Ziel ist es, jeden Monat ein oder zwei Veranstaltungen zu organisieren. Unsere Ideen sind vielfältig, hängen aber zum Großteil von äußeren Faktoren wie etwa Wetter und den Corona Beschränkungen ab. Sobald wir hier wieder Termine/Veranstaltungen anbieten können, findet Ihr hier alle Infos!
#########################
ALL DATES IN THE UNDERGROUND ARE UNFORTUNATELY STILL CANCELLED UNTIL FURTHER NOTICE DUE TO THE CORONA PANDEMIC. WE ALSO HOPE TO OPEN SOON!
Stay healthy.
Dieter, Werner, Raymund and all helpers
Meldung vom 20.09.2020
Meldung vom 20.09.2020
Liebe Mitglieder und Freunde des MLC e.V.
Heute wäre er gewesen, der Gaysunday® in der Bräurosl.
Wir konnten einfach nicht anders, wir mussten der Wiesn einen kurzen Besuch abstatten und haben Flagge gezeigt.
Wir wünschen euch schöne Herbsttage.
Bleibt Gesund!
Dear members and friends of the MLC e.V.
Today would have been the GaySunday® at the Bräurosl.
We just couldn't resist, we had to make a short visit to the Wiesn and raised the flag.
We wish you beautiful autumn days.
Stay healthy!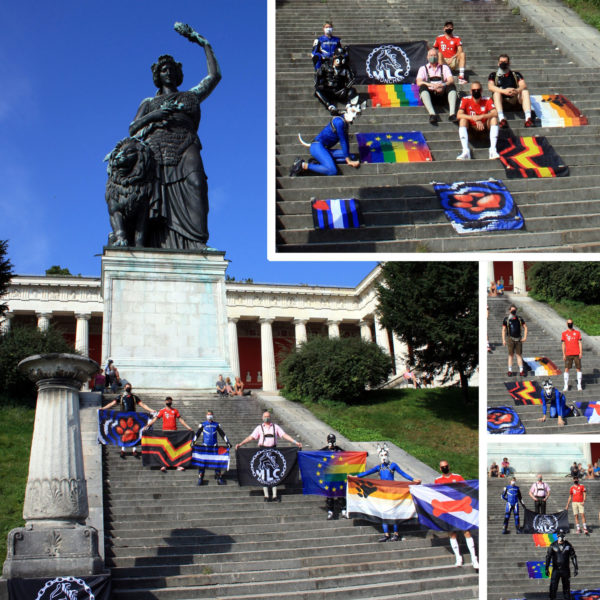 Pressemeldung vom 14.09.2020
Meldung vom 14.09.2020
Pressemitteilung und historische Hintergründe zum GaySunday®
Der GaySunday® gehört zum MLC wie der "Englische Garten" zu München
Das Jahr 2020 wird in besonderer Erinnerung bleiben. Das Jahr 1974 ist für den MLC ebenfalls ein besonderes Jahr. Im November 1974 gründete sich der Münchner Löwen Club. Schnell wurde er über die Grenzen Deutschlands hinaus bekannt. Schon 1975 luden wir zu einer internationalen Tagung nach München.
Während die Einen eifrig auf der Tagung debattierten, zog es viele der auch internationalen Gäste in Leder auf die Wiesn. Tracht war übrigens zu der Zeit verpönt und so wurde teils in Ledermontur, teils in Motorradkleidung oder auch in Jeans im Armbrustschützenzelt gefeiert. Aber auch vor der Clubgründung gab es bereits Treffen der Fetischkerle im Schottenhammel und Augustiner Festzelt.
Die Idee, diese Tagung mit dem Oktoberfest zu verbinden, war so erfolgreich, dass im Jahr 1977 etwas mehr Organisation nötig geworden ist. Willy Heide und sein Irrtum, der Münchner Löwen Club hätte etwas mit dem TSV 1860 München (den "Münchner Löwen") zu tun, war der Beginn einer tollen Partnerschaft zwischen dem MLC und der Wirtsfamilie Heide. Seit diesem Jahr feierten die "Men in black", wie wir von Willy genannt wurden, jedes Jahr am ersten Sonntag der Wiesn in der Bräurosl; erst noch in Boxen hinter der Bühne, später dann auf dem Balkon.
Von Jahr zu Jahr wurde das Event erfolgreicher.  Nebenbei zogen mehr und mehr Schwule und Lesben, ohne Bezug zum MLC, aus München und Umgebung ins Festzelt. Aus diesem Grund entschloss sich der Vorstand dem Kind einen Namen zu geben. So entstand die Wortmarke GaySunday®, die sich der Verein im Jahr 2001 hat schützen lassen. Seit dieser Zeit sind GaySunday® und MLC untrennbar verbunden.
Nun wird es den GaySunday® in diesem Jahr nicht geben. Die aktuelle Situation lässt ein Event dieser Größe nicht zu. Vorstand und Mitglieder schauen aber nach vorn — wir werden den GaySunday® nicht in der Versenkung verschwinden lassen! Daran hindert uns auch nicht der Rückzug der Familie Heide aus dem Bräurosl Zelt. Damit steht unser innig geliebter Balkon zwar nicht mehr zur Verfügung, aber wir sind sehr gespannt, wer sich um die Zeltführung bewerben und den Zuschlag erhalten wird. Nach 43 Jahren werden wir auch Gespräche mit anderen Zeltbetreibern suchen und führen. Wir sind ein starker Verein, der sich freut in der Lokalpolitik gern gesehen zu sein. Wir werden als Verein alles daran setzen, um den nächsten GaySunday® wieder als große und tolle Veranstaltung mit und für die lokale und internationale Community ausrichten zu können!
Die drei Fotos zeigen Impressionen aus dem GaySunday von 1995.
Meldung vom 13.08.2020
Meldung vom 13.08.2020
Hallo Fetisch-Kerle,
Hallo liebe MLC-Mitglieder,
an dieser Stelle wollen wir euch mal wieder über die Lage des MLC/UnderGround informieren. Der MLC und das UnderGround hat in den vergangenen Jahren gut gewirtschaftet und es konnten Rücklagen gebildet werden. Daher muss sich um den MLC und das UnderGround aktuell keiner Sorgen machen. Wir halten durch!

Wie und wann geht es weiter mit dem UnderGround?
Zum gegenwärtigen Zeitpunkt ist aus, derzeitig geltenden, gesetzlichen Bestimmungen keine Öffnung möglich. Selbst wenn eine Öffnung möglich wäre, so würde der MLC keine Veranstaltung anbieten. Die Rahmenbedingungen wie Hygienekonzept aber vor allem die Sicherheit der Helfer und Gäste steht an oberster Stelle. Da die Infektionszahlen zu steigen scheinen, und im medizinischen Bereich auch mittelfristig keine Option erkennbar ist, bleibt das UnderGround noch immer geschlossen. Wir stehen natürlich mit den Behörden in Kontakt und sobald auch wir irgendwann ein "GO" erhalten, informieren wir euch sofort über alle Kanäle wie Webseite, Newsletter, Facebook und Gayromeo!
Euer Vorstand
#bleibtgesund
************
announcement from 13.08.2020
Hello, fetish guys,
Hello dear MLC members,
at this point we want to inform you about the situation of the MLC/UnderGround. The MLC and the UnderGround has done well in the past years and reserves could be built up. Therefore nobody has to worry about the MLC and the UnderGround at the moment. We hold out!

How and when will the UnderGround continue?
At the present time, no opening is possible due to current legal provisions. Even if an opening would be possible, the MLC would not offer an event. The basic conditions such as hygiene concept but above all the safety of the helpers and guests is our top priority. Since the number of infections seems to be increasing and in the medical field there is no option in the medium term, the UnderGround still remains closed. We are of course in contact with the authorities and as soon as we receive a "GO" at some point, we will inform you immediately via all channels such as website, newsletter, Facebook and Gayromeo!
Your board of directors
#stay healthy
N O T I F I C A T I O N:
Due to the regulation of the legal authority of the city of Munich, we have to verify the identy of each guest of the UNDERGROUND by a legal document. So no final access without a machine readable document, like a Passport or an identity card issued by the legal authority of the country or the homecity, never the less, MLC membercards are also allowed. All other documents, like for e.g. a drivers license are not allowed.
Sorry for this inconvenience – The Executieve Board of the MLC Munich e.V., Dieter, Raymund, Werner
---
News, Flyer & Hotels
Hotel recommendations
The Hotel Deutsche Eiche ("German Oak") has been for over 150 years a real center of the gay community in the middle of the gay village, in the heart of Munich. The Eiche outshines chain hotels with its unique mix of services: Munich's most beautiful rooftop terrace with a view of the Old City and the Alps, Central Europe's largest male sauna, a design hotel with 36 modern rooms and a regionally very well-known and traditional restaurant.
Nearby parking spaces are available upon prior reservation and the MLC's (Münchner Löwen Club) Underground Club can also be reached directly in barely more than 20 minutes by subway.
The Deutsche Eiche looks forward to welcoming MLC guests.
www.deutsche-eiche.de
---
10% discount on accomodation at Holiday Inn München Süd
For all members and guests looking for accomodation close to UnderGround we made a price deal with the Holiday Inn München Süd at Kistlerhofstrasse 142 (only 200 meters from UnderGround).
If you book your room using this link you will receive a 10% discount on the lowest Best Flexible Rate (daily rate). During certain times of high-season trade fairs or other big events (unfotunately this also applies to Oktoberfest) this discount won't be applicable. Please make sure to enter our company ID 786798308 on the left hand side and choose the tariff preference "Münchner Löwen Club". Only then you will be eligible for the discount.
The MLC only did the discount negociations. Bookings, payments and all other things are solely to be processed with the hotel directly.
HIV-Test per Post mit S.A.M
Eine Info der Münchner Aids-Hilfe: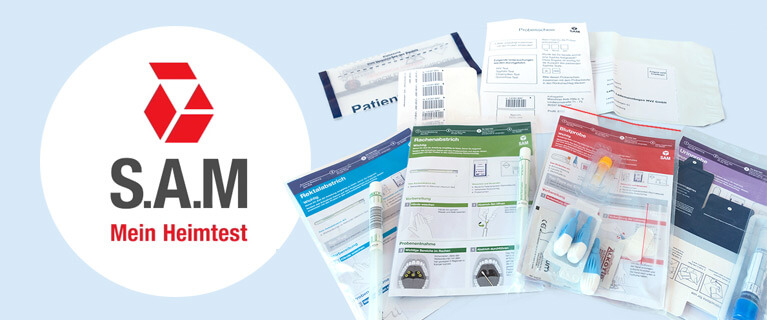 Infektionen früh entdecken und behandeln
Ein kleiner Stich in den Finger zur Blutentnahme, eine Urinprobe, einige Abstriche mit Wattestäbchen, die Proben in einem Plastikbeutel verstauen und in die Post geben: So einfach funktioniert das neue Heimtest-System S.A.M für Checks auf HIV und Geschlechtskrankheiten. Ab sofort wird es in Bayern für ein Jahr erprobt. Entwickelt wurde das innovative Konzept von der Münchner Aids-Hilfe und ihrem Dachverband, der Deutschen AIDS-Hilfe, ViiV Healthcare und dem Labor Lademannbogen in Hamburg. Mehr Infos auf: https://samtest.de und auf der Seite der Münchner Aids-Hilfe!
Current Flyer
Event flyer for Q2/2020 – Q3/2020
Here you can download the event flyer for the quarter 2/2020 and 3/2020

The flyer is in PDF format. To be able to open this file you need "Acrobat Reader" or some other PDF reader software. You can download "Acrobat Reader"