Quick-Menu
---
Current Info
mostly only in German
open/close
Tickets für unseren CSD-Jubiläums-Truck
Hallo Jungs, der CSD München rückt näher und dieses Jahr geben wir Vollgas!
Wir feiern mit der queeren Community gleich drei Jubiläen: 
50 Jahre Stonewall – 45 Jahre MLC München – 40. CSD München
Drei große Jubiläen wollen groß gefeiert werden. Der MLC feiert dies mit einem 14 Meter langem MLC-Jubiläums-Truck!
Es ist Platz für 50 Jungs – egal in welchem Fetisch-Outfit.
Für alle, die mit uns feiern wollen: Es gibt Tickets für den MLC-Jubiläums-Truck.
MLC Mitglieder zahlen 15,- EUR, Nicht-Mitglieder 25,- EUR.
Dafür gibt's eine geile Truckfahrt mit heißen Jungs und einer Getränke-Flatrate.
Treibenden Sound gibts von unserem DJ ChrisZ (NY.Club) auf die Ohren.
Der Vorverkauf beginnt ab morgen: Freitag, 07.06.2019; 12 Uhr Mittag !
So kommt ihr an die Tickets: https://zen.eventjet.at/shop/event/13870
Mitglieder müssen im Shop unter dem Feld: "Haben Sie einen Rabatt-Code?" die Mitgliedsnummer direkt gefolgt von der Postleitzahl eingeben (z.B.: 9999 + 80801 = 999980801) und auf "einlösen" drücken. Erst danach schaltet sich die Ticketart für Mitglieder frei und wird sichtbar. Die Mitgliedsnummer findet Ihr auf eurem Mitgliederausweis – eure Postleitzahl wie bei uns hinterlegt.
Unsere Regeln:
Dress to Impress: Dresscode ist Fetisch – aber bitte öffentlichkeitstauglich
Sicherheit: den Anweisungen der Ordner*innen ist Folge zu leisten.
Gesundheit: Keine Drogen (NO DRUGS).
Wir halten 30 Tickets für Mitglieder und 20 Tickets für Nicht-Mitglieder im Shop für euch bereit. Es gilt: first come, first serve. Wer dabei sein will, sollte sich also beeilen 🙂
Für alle, die nicht auf dem MLC-Jubiläums-Truck wollen oder kein Ticket ergattert haben gilt wie jedes Jahr: kommt im Fetisch und begleitet uns als Fußtruppe hinter dem LKW.
Feiert mit uns – habt Spaß – und genießt den Sommer mit uns auf dem Jubiläums-CSD 2019!
Euer CSD-Orga-Team 
Oktoberfesttreffen 2019
Hello guys, the time has come …
the packages for the Oktoberfest meeting 2019 can now be bought! 🙂
The ticket package sold at 131,- EUR contains: 3 beer vouchers, 1 voucher for ½ chicken plus a 20,- EUR food voucher. You'll also get a voucher booklet which includes the brunch at Oberangertheater and many other discounts in the Munich scene.
TICKETS HERE
N O T I F I C A T I O N:
Due to the regulation of the legal authority of the city of Munich, we have to verify the identy of each guest of the UNDERGROUND by a legal document. So no final access without a machine readable document, like a Passport or an identity card issued by the legal authority of the country or the homecity, never the less, MLC membercards are also allowed. All other documents, like for e.g. a drivers license are not allowed.
Sorry for this inconvenience – The Executieve Board of the MLC Munich e.V., Dieter, Raymund, Werner
---
News & Flyer
10% discount on accomodation at Holiday Inn München Süd
10% discount on accomodation at Holiday Inn München Süd
For all members and guests looking for accomodation close to UnderGround we made a price deal with the Holiday Inn München Süd at Kistlerhofstrasse 142 (only 200 meters from UnderGround).
If you book your room using this link you will receive a 10% discount on the lowest Best Flexible Rate (daily rate). During certain times of high-season trade fairs or other big events (unfotunately this also applies to Oktoberfest) this discount won't be applicable. Please make sure to enter our company ID 786798308 on the left hand side and choose the tariff preference "Münchner Löwen Club". Only then you will be eligible for the discount.
The MLC only did the discount negociations. Bookings, payments and all other things are solely to be processed with the hotel directly.
HIV-Test per Post mit S.A.M
Eine Info der Münchner Aids-Hilfe: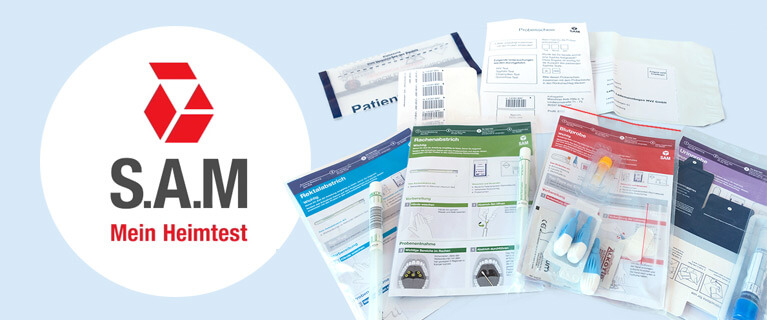 Infektionen früh entdecken und behandeln
Ein kleiner Stich in den Finger zur Blutentnahme, eine Urinprobe, einige Abstriche mit Wattestäbchen, die Proben in einem Plastikbeutel verstauen und in die Post geben: So einfach funktioniert das neue Heimtest-System S.A.M für Checks auf HIV und Geschlechtskrankheiten. Ab sofort wird es in Bayern für ein Jahr erprobt. Entwickelt wurde das innovative Konzept von der Münchner Aids-Hilfe und ihrem Dachverband, der Deutschen AIDS-Hilfe, ViiV Healthcare und dem Labor Lademannbogen in Hamburg. Mehr Infos auf: https://samtest.de und auf der Seite der Münchner Aids-Hilfe!
Current Flyer
Event flyer for Q2/2019 – Q3/2019
Here you can download the event flyer for the quarter 2/2019 and 3/2019

The flyer is in PDF format. To be able to open this file you need "Acrobat Reader" or some other PDF reader software. You can download "Acrobat Reader"