Quick-Menu
---
Current Info
mostly only in German
Alle Termine des MLC und UnderGround sind auf unbestimmte Zeit abgesagt.
Bleibt gesund.
Dieter, Werner, Raymund und alle Helfer
NEU Meldung vom 18.06.2020
– Danke für eure Spenden / Info zur aktuellen Lage des MLC e.V.

Der MLC ist gut aufgestellt!
Hallo liebe Mitglieder und Freunde des MLC,
an dieser Stelle wollen wir euch über die Lage des MLC/UnderGround informieren.
Der MLC und das UnderGround hat in den vergangenen Jahren gut gewirtschaftet und es konnten Rücklagen gebildet werden.
An dieser Stelle wollen wir uns ganz herzlich bei den vielen Spendern der Starkbierfest-Tickets bedanken! Von sehr vielen Käufern gab es liebe Worte und sie haben die Rückerstattung nicht in Anspruch genommen und ihren Betrag gespendet.
Ihr seid GROSSARTIG! Vielen DANK!
Fazit:
Derzeit gibt es keinen Anlass sich wesentliche finanzielle Sorgen zu machen. Die laufenden Kosten werden derzeit von den Rücklagen, die für Investitionen gedacht waren, gedeckt.
Leider muss der UnderGround auch weiterhin geschlossen bleiben. Wir hoffen jedoch, dass auch wir bald wieder öffnen dürfen und wir wieder gemeinsame, schöne und geile Abende im UG haben können!
Sobald die Lage ein unkompliziertes treffen in einem Lokal oder Biergarten möglich ist organisieren wir gerne wieder Treffen für unsere Mitglieder und Freunde.
Euer Vorstand
#bleibtgesund
NEU Meldung vom 24.03.2020
– Mitgliederversammlung auf unbestimmte Zeit verschoben
Aufgrund des sicher noch länger anhaltenden Versammlungsverbotes ist unsere Mitgliederversammlung (eigentliches Datum 26.04.2020) auf unbestimmte Zeit verschoben. Sobald ein neuer Termin feststeht, informieren wir euch rechtzeitig!
************
Dear members and friends of the MLC München e.V.,
All Events of the MLC and UnderGround are cancelled indefinitely.
Stay healthy.
Dieter, Werner, Raymund and all helpers
NEW announcement from 18.06.2020
– Thank you for your donations / Info about the current situation of the MLC e.V.

The MLC is well funded.
Hello dear members and friends of the MLC,
at this point we want to inform you about the situation of the MLC/UnderGround.
The MLC and the UnderGround have done well in recent years and reserves have been built up.
At this point we would like to thank the many donors of the Starkbierfest tickets! There were kind words from very many buyers and they did not take advantage of the refund and donated their amount.
You are GREAT! Thank you very much!
At present there is no reason to worry about significant financial worries. The running costs are currently covered by the reserves that were intended for investments.
Unfortunately, the UnderGround must remain closed. We hope, however, that we too will be allowed to open again soon and that we can have nice and horny evenings together in the basement again!
As soon as an uncomplicated meeting in a restaurant or beer garden is possible we will gladly organize meetings for our members and friends.
Your board of directors
#stay healthy
NEW announcement from 24.03.2020
– General meeting postponed indefinitely

Due to the ban on meetings, which will surely last for a longer time, our general meeting (actual date 26.04.2020) has been postponed indefinitely. As soon as a new date is fixed we will inform you in time! Stay healthy. Dieter, Werner, Raymund
—————————
The Bavarian Mister Leather 2020: Benji Waters
We congratulate Benji and wish him all the best for his term of office!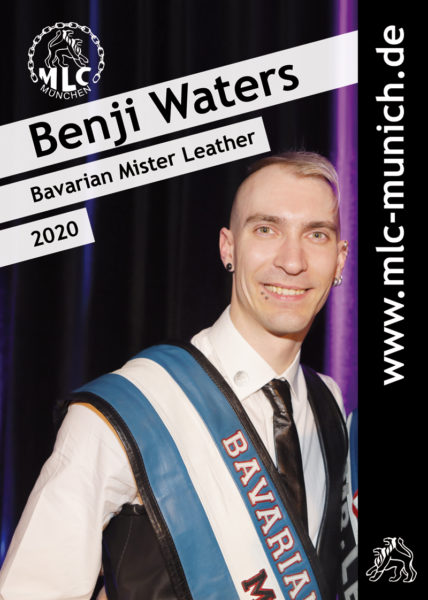 ---
News, Flyer & Hotels