Quick-Menu
---
Current Info
mostly only in German
Aufgrund amtlicher Verfügung sind alle Termine des MLC und UnderGround bis vorerst 17.5.2020 abgesagt.
Bleibt gesund.
Dieter, Werner, Raymund und alle Helfer
NEU Meldung vom 24.03.2020
– Mitgliederversammlung auf unbestimmte Zeit verschoben
Aufgrund des sicher noch länger anhaltenden Versammlungsverbotes ist unsere Mitgliederversammlung (eigentliches Datum 26.04.2020) auf unbestimmte Zeit verschoben. Sobald ein neuer Termin feststeht, informieren wir euch rechtzeitig!
Meldung vom 16.03.2020
– Für Ticket-Käufer vom GaySunday zum Starkbierfest:
Wir werden uns in den nächsten drei Wochen bei dir bezüglich einer Rückerstattung des Eintrittspreises per E-Mail melden! Dies gilt für unsere Ticketkäufer vom Online-Verkauf.
Käufer die nicht über unser online Ticketsystem gekauft haben – sondern die Karte für den GaySunday bei SpeXter erworben haben, erhalten die Rückerstattung direkt bei SpeXter. SpeXter ist informiert und zahlt euch das Geld direkt aus.
************
Dear members and friends of the MLC München e.V.,
Due to official decree all dates of the MLC and UnderGround are cancelled until 17.5.2020.
Stay healthy.
Dieter, Werner, Raymund and all helpers
NEW announcement from 24.03.2020
– General meeting postponed indefinitely

Due to the ban on meetings, which will surely last for a longer time, our general meeting (actual date 26.04.2020) has been postponed indefinitely. As soon as a new date is fixed we will inform you in time! Stay healthy. Dieter, Werner, Raymund
announcement from 16.03.2020
– For ticket buyers from GaySunday to the Starkbierfest:
We will get back to you within the next three weeks regarding a refund of the admission fee by e-mail! This applies to our ticket buyers from online sales.
Buyers who did not purchase via our online ticket system – but bought the ticket for the GaySunday at SpeXter, will get the refund directly at SpeXter. SpeXter is informed and pays you the money directly.
—————-
The Bavarian Mister Leather 2020: Benji Waters
We congratulate Benji and wish him all the best for his term of office!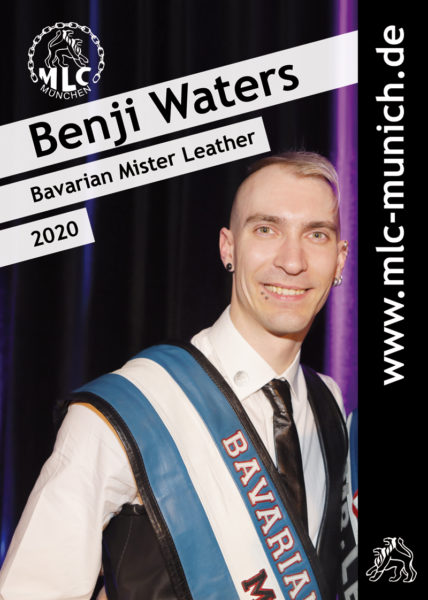 Preliminary information on the Wiesn 2020
Dear members and friends of the Oktoberfest,
we would like to inform you that this year the MLC can no longer get both shifts on the newly designed balcony of the Bräurosl. As a result, the GaySunday ends at 04:30 p.m. for the shift change.
We as board members are very sorry about this.
More information and the new, cheaper ticket prices will soon be available on our website.
Sincerely Dieter, Raymund and Werner
---
News, Flyer & Hotels